A
Barracks
is a military production facility that focuses on training infantry units. It is the first military building available to the player upon researching 1 level of
Military technology
. Immediately available from the barracks, players can create light infantry, which are normally swordsmen; archers; and heavy infantry, which are normally armoured spearmen.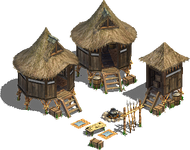 Military technology research at your Library will reduce the cost of a unit, as well as unlock the ability to upgrade a unit. Upgrading a unit will normally result in a unit with a slightly higher cost, but much better statistics - ie, a spearman is cheaper but inferior in combat prowess when compared to a pikeman, or a pike guardsman.
Units trained
Edit
Light infantry
Edit
Heavy infantry
Edit
Missile infantry
Edit
A Dojo is a unique building available to the Japanese civilisation, and is a "fortified barracks" concept, being tougher, and capable of attacking enemies with a short-ranged missile attack.